We offer a range of treatment options
Nano-Facade-Protection products provide sustainable protection against environmental elements such as acid rain, UV exposure and pollution (exhaust gases, brake dust, soot, etc.) and also graffiti vandalism.
Based on the latest scientific knowledge from nanotechnology, Nano-Coat facade protection products offer versatile solutions for sustainable treatments and value retention.
A gentle and surface-specific cleaning of the facade, whether mineral-based plaster, clinker, plastic or aluminum, is a prerequisite for a long-lasting coating. We are happy to work with you on the most cost-effective and long-lasting solution for your property.
Nano–Facade-Protection products prevent water damage while retaining the full breathability of the surface. Moss and algae have therefore no-where to grow, and dirt is simply washed off with the rain.
Aluminum facade coatings are equipped with UV filters which prevent discoloration through chalking and yellowing. For all other individual surface problems we are here to support you with specific solutions.
Sustainable protection against Graffiti
Our nano sealing solutions offer invisible Graffiti protection which allows these "artworks" to be as easily removed as they were applied: up to 100 times without having to renew the protective layer and from all types of surfaces.
Graffiti Color
With Graffiti Color existing Graffiti can simply be overpainted. Bearing in mind all of the different types of surfaces and Graffiti materials (spray, lacquer or permanent marker), an on-site consultation with you, as the owner or manager of the property, is required in order to work out a successful solution.
For the removal, and subsequent protection against Graffiti, we have the Nano-Coat solution for you. Contact us.
Titanium Dioxide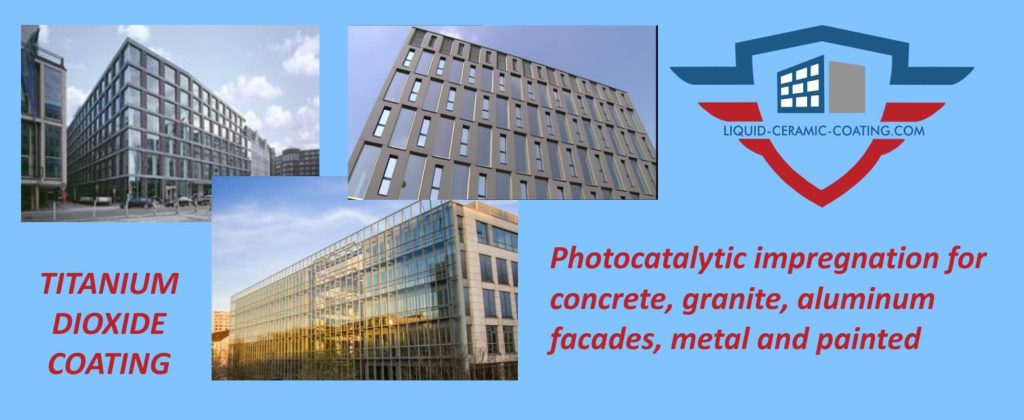 In today's environment buildings are exposed to extreme stress factors – smog, exhaust fumes, osmosis, biological deposits (moss, algae, etc.) are just a few examples.
With our titanium dioxide sealants, we meet these extreme challenges with state-of-the-art technology.
Photocatalytic self-cleaning refers to the property of surfaces, which are coated with Photocatalysts, such as nano-particles of titanium dioxide (TIO²).
The self-cleaning effect of the TIO² coating is highly effective. Dirt particles are actively decomposed (by irradiation with light – sunlight) and are simply rinsed away by the rain.
Pollutant cleaning: A study by the University of Tokyo confirms the effectiveness of air purification. For example, an area of ​​1000 m² coated with titanium dioxide is able to remove pollutants from 250 000 m³ of air within 12 light hours.
Functionality based on titanium dioxide: The foundation of this process is photo catalysis. Titanium dioxide (TIO²) is a semiconductor; light is created on its surface electron-hole pairs, when the energy of the photons is greater than the bandgap Eg. The electrons can diffuse in the titanium dioxide on the surface and produce radicals, which lead to the decomposition of organic substances.
The end products are in many cases CO2 and water.
Applications: Titanium dioxide is ideal for impregnating concrete or painted mineral surfaces.
TIO² coatings lead to a great saving potential for ​​cleaning, as well as an active investment in the environment.
Features and Benefits:
Non-toxic
Transparent
Suitable for industrial impregnation as well as for end users
The natural active ingredient uses the power of the sun to prevent unwanted growth
Hardens at room temperature within 4 hours. After 12 hours the surface is fully protected.
Graffiti Protection
….reasons to protect your property with graffiti protection products
A permanent, washable and breathable graffiti and surface protection system
Graffti Protection is available in matt, glossy, transparent and colored, our permanent, one-component protective coating offers long-term, durable protection against graffiti.
It can be applied to structured, rough and smooth surfaces and creates an excellent protection against graffiti, water and mold while preserving the look and beauty of the surface – long term.
Graffiti protection for internal and external surfaces is an ever-present and universal problem for home owners, housing companies, town planners and public transport companies.
Graffiti removal can be a complex, expensive, and time-consuming process, especially when the surface is the constant target of renewed graffiti attacks. Hazardous aggressive solvents are often used as cleansing agents and removal is rarely 100% successful.
On graffiti-protected areas sprayed graffiti is removed with our gentle, protective cleaner. There will be no aggressive or chemical paint removers needed.
Graffiti protection – if applied correctly – has a lifespan of up to 10 years, at least 10 graffiti removals can be carried out without the protective coat being compromised.
Graffiti protection also has the property that posters and sticky labels do not stick to the surface and can be easily removed.
Graffiti removal could not be easier!
No mess
No dangerous solvents
No change to the original surface