Our Service Offering
The February 2019 edition of Aero-Club News highlighted the benefits of coating and protecting your aircraft through their report on a project which we carried out with MPC: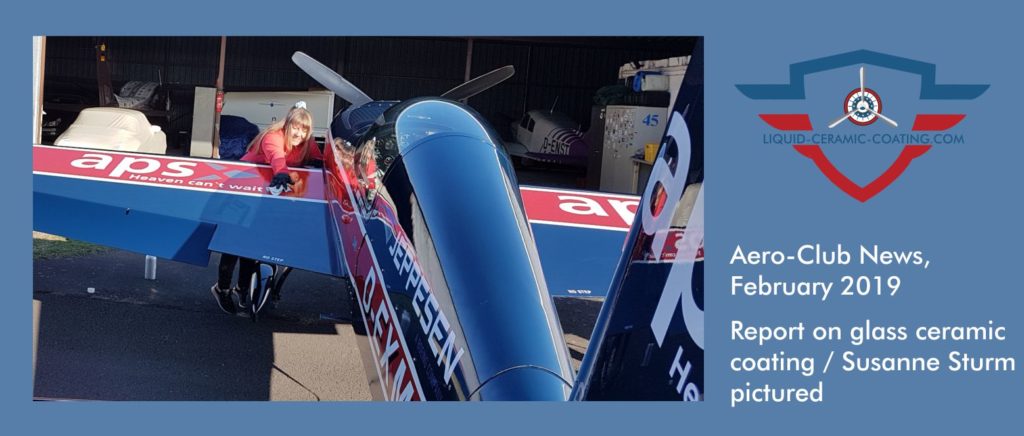 Protect that which you love
Thorough aircraft maintenance is indispensable! Every owner knows that. But after flying, removing all the dirt is not necessarily a favorite pastime. A topic of discussion in many clubs is often just how clean the aircraft has to be. An abrasion-resistant long-term coating can make the task faster and easier. Nanotechnology delivers us a promising product. With this coating not only is the care easier, it also protects from environmental influences and corrosion and reduces air-flow resistance. Common nano products, which are used as surface protection for cars, commercial vehicles and boats, are now standard, but there are special requirements when it comes to aircraft. MPC Nanotechnologie, a surface finisher from Marpingen, has developed "CCS Long Term Coating" specifically for the aircraft, marine and military industries. This ultra-thin, transparent coating with high adhesive properties is extremely resistant to heat and cold (-50 °C to +750 °C) and lasts up to ten years. DAeC Vice President Michael Rottland wanted to know more and had his Extra 300s coated in November. The result convinced him.
This article describes the benefits from a long-term coating and, if you are interested, here is our offer: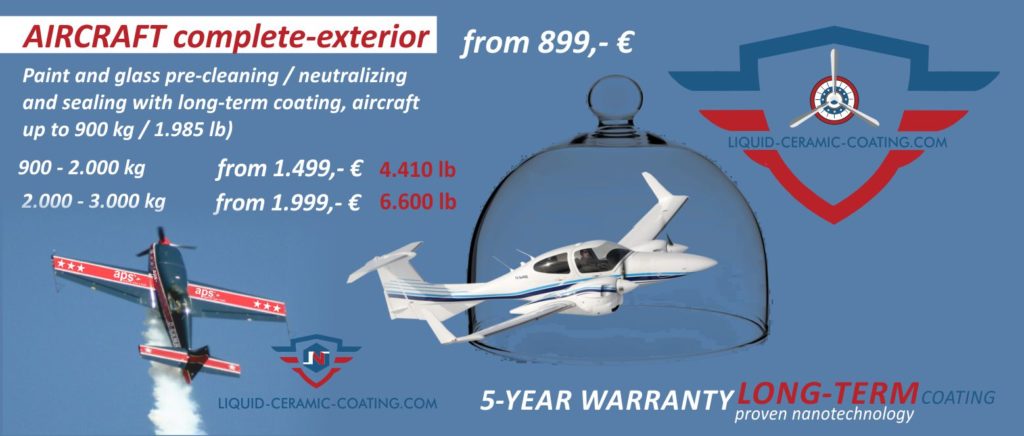 Also available
Professional nanotechnology coatings for UL – Trike – Kites – Gliders and Parachutes.

Our nano sealants for textiles, leather, plastics and fiber are a liquid impregnation which is water and oil repellant. The product forms an almost invisible, thin surface film over the material. Due to the water repellant effect, moisture and dirt penetration is significantly reduced. It is resistant to most chemical cleaners and ideal for renewing and strengthening the original impregnation.
An invisible improvement
This sealing product is alcohol-based which results in an easy-to-clean effect on glass, plastics, ceramic and metal surfaces (chrome, stainless steel, aluminum). It creates a thin film which prevents the build-up of dirt and foreign materials and allows water to roll off. The treated surface is particularly easy to clean.
Non-stick coating (dirt and insects are drastically reduced = Easy-to-Clean
Water and rain just roll off
Reduced air resistance (reduces surface friction)
UV resistant protective layer
Abrasion, UV, frost and oxidation resistant
No need to clean so often, and no need for harsh chemicals
Self-cleaning effect simply with rain water or spraying